We would like to invite you to the 15th Czech Dogfrisbee Championship. We will be gradually adding all info regarding this year´s competition including registration, accommodation and access directions.
2021 Open Czech DiscDog championship
As the coronavirus pandemic is still influencing life and all events here in Czechia, the Czech DiscDog Committee has decided for this year's Championships to be open to anybody who is meeting conditions specified below without the need to specifically qualify. The committee has also decided to include the Championships into the DiscDog Brit Cup 2021, counted as a regular cup event.
CONDITIONS:
Czech Championships are open to any player who has already participated – this year or years before – in at least one competition in open divisions in Czechia or abroad: Open (FS), SPTF (in Czechia in Division I), standard version of The Quadruped (the team has to have a valid / caught attempt)
REDUCED STARTING FEES:
100% fee reduction for members of the Czech DiscDog Club: 

50% fee reduction for everybody else: 

in FS: all teams ending up on 1st, 2nd or 3rd place in FS Open at each Brit Cup 2021 event. Reduced fee is not moving down to teams who are not on the podium even if there is someone on the podium who has already got the reduced fee at some previous competition. 

in SPTF – any team who has got 46 points and more 

in The Quadruped:

Women – 60m and more

Men – 65 and more
* At the day of the competition you have to already be a member of DiscDog Club. This benefit cannot be applied  retrospectively.
| Informations: | |
| --- | --- |
| | Dvůr Králové nad Labem, areál Nový Svět, GPS: 50.427291,15.821066 |
| | |
| | |
| | |
| List of registered players: | |
| | |
| Price list | Member of club | others |
| --- | --- | --- |
| | | |
| | | |
| | | |
| | | |
| | | |
Foreign players can pay cash only at the registration.
CZCH = Championship title
Do not forget to order a T-shirt:
Deadline pro the order is August 29th!
* Competitors who start in the championship disciplines have a free T-shirt. Nevertheless, it is necessary to order it and choose the size. Players who do not do so will be without a T-shirt.
Dear participants,
Due to the great interest in this year's MČR, we left the same conditions as last year. For the sake of clarity, we will summarize them to make sure that you have not missed anything
Don't miss:
SPTF – will be divided into Saturday – 1st round (start at 9:00) – and Sunday – 2nd round. In the case that more than 80 teams enter the discipline, a "cut" will be made. 
Freestyle – the first round of freestyle and freestyle TF will take place on Saturday. If +/- as many teams start as there are currently reported, the FS TF will be interspersed with Freestyle – the first half of the starting field will be freestyle first, which will be interspersed with the freestyle mini of the second half of the starting field. After the lunch break, it changes and the first half goes FS TF, the second half goes freestyle. The second freestyle round will take place on Sunday.
Quadruped – to assure  competitors have good lighting conditions, Quadruped will start qualifying at 13:00 and we will go with groups and last chances in parallel on two courts – women and men at the same time. The finals will then take place on the original quad course, one after the other.
Dogdartbee – was limited to 60 starting teams. In the event that some teams unsubscribe or do not register, we will add teams from the list of substitutes in the order of received applications as the substitutes are listed in the list of entries.
Arrival:
Arrival to the camp is possible from Friday morning from 6 AM. Camping is possible anywhere in the designated area. Please take into account that a camping fee of CZK 50 / person / night will be collected upon registration.
Refreshment:
There is a traditional canteen right in the complex. Kaufland can be reached on foot in 5 minutes. Or you can visit some of the restaurants that are close by.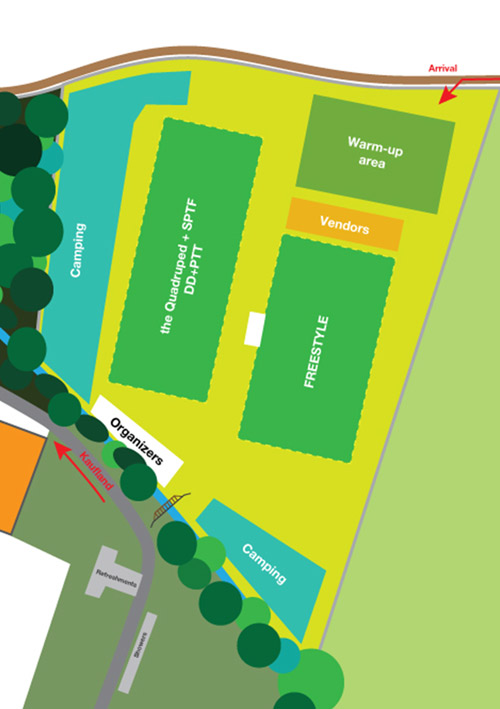 Distance disciplines Judges
FRIDAY:
11:00 – 12:30 registration
13:00 Quadruped W/M
SATURDAY:
MAIN FIELD:
10:00 – 12:00 FS R1 (1-23) + FS TF (24-55)
13:00 – 15:15 FS R1 (24-40) + FS TF (1-17)
15:30 – 17:15 FS R1 (41 – 55) + FS TF (18 – 23)
SPTF FIELD:
9:00 – 12:00 SPTF R1 (1-60)
12:30 – 15:30 SPTF R1 (61-120)
DOGDARTBEE FIELD:
10:30 – 13:30 Qualifications (1-30)
13:45 – 16:45 Qualifications (31-60)
17:30 – 18:30 Semi+ finals
SUNDAY:
MAIN FIELD:
9:00 – 11:00 SPTF R2 (80-41
12:00 – 13:45 FS R2 (55-31) + SPTF R2 (40 – 21)
14:00 – 16:00 FS R2 (30-11) + SPTF R2 (20 – 1)
16:10 – 17:00 FS R2 TOP 10
PTT FIELD:
9:15 – 10:30 PTT qualifications
11:15 – 12:00 PTT play off
The organizer reserves the right for changes.